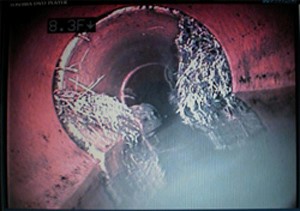 It's not always easy to trust the advice you're being given, especially if you didn't expect you would need an additional service in order to fix what seems like a simple problem. Rest assured, it's normal for a plumber to need to do a video pipe inspection, either during a plumbing repair or later after a clog has been removed.
Our Memphis Plumbers at Larry O. Plumbing & Rooter want to put your mind at ease by sharing some information on video pipe inspections with you. Here are a few of the most common reasons your plumber may need to do a video pipe inspection.
A Sewer Line Leak Needs To Be Located And Pinpointed
Not all leaks are easy to pinpoint, especially when they're happening underground outside or underneath your home's foundation slab. You may have a pool of water in a certain area of the ground, but that doesn't mean the leak is right there.
Pinpointing the exact location of a sewer pipe leak isn't easy because drain pipes run downhill and water travels downhill. The leak could be located much further up the line than where it soaks the ground or your home's foundation. Water will travel along the pipe for a while before it finds a place to settle and start pooling.
A Drain Clog Will Not Clear Out
If your plumber runs into a clog that they can't break through with a snake, they'll need to first video inspect the inside of the pipe to identify the blockage. It could be something as simple as a toy flushed down the toilet or something much more complicated like tree roots growing into the sewer pipes.
One of the symptoms of a tree root problem is when a drain clog cannot be cleared from the pipe without using a hydro-jetting method. You'll need to know if it's just a matter of a toy or object being put down the drain and getting stuck or if it is indeed tree roots so that you get the right solution and you don't keep having problems.
Your Plumber Suspects A Problem With Sediment Buildup Inside The Pipes
Sediments in the fresh water supply that runs to your home can stick to the inside of your sewer pipes. The limescale can build up so thick inside the pipes are so narrow that not even a trickle of wastewater can get through.
This sediment clog is rock hard and difficult to clear. If your plumber suspects the pipes are narrowing due to limescale, they'll recommend a video pipe inspection as well as a complete hydro-jetting drain cleaning service.
If you are looking for a Memphis area plumber, please call us today at 901-861-0277 or complete our online request form.