Kitchen Remodeling - Complete Plumbing Solutions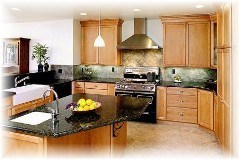 Any Memphis area homeowner that is remodeling their kitchen will need to hire a plumbing contractor. At Larry O Plumbing, our professional kitchen plumbers will be able to let the home owner know the best way to get the job done, and if the remodel will be possible.
It is best if you contact us before you start the job, and you will see that this will save you time and money in the long run. This is in case you have already done something to the remodel that the plumber advises against. You will not have to go back and redo anything that you have already done.
When it comes to remodeling your kitchen, Larry O Plumbing have been remodeling kitchens since 1971 and understand all facets of plumbing installations and concerns. Our specialties include:
Custom Cabinets
Custom Countertops-all types
Dishwasher hook-up & installation
Drains replaced
Drinking water systems
Faucets replaced
Garbage Disposers replaced
Ice Maker water lines
Instant hot water dispenser systems
If you are looking for a kitchen remodeling plumber please call us today at 901-861-0277 or complete our online request form.

Our Services



Get some around the house tips from our monthly newsletter.


We Accept The Following


Financing Available For Those That Qualify