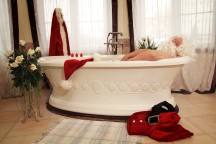 Down in the deep, dark passages of your plumbing pipes, lies a nasty old plumbing Grinch who's waiting for the chance to steal your holiday cheer. No one who experiences the Christmas season in Memphis is completely safe from this nasty old Grinch, except perhaps those who've taken good care of their home's plumbing.
Hopefully, you've already done everything you can to keep the plumbing Grinch from steeling your holiday cheer, like winterizing the plumbing and making the necessary plumbing repairs and upgrades. If not, you may be in for a surprising holiday season when the Grinch visits your home this year!
Kitchen Drain Blockage Ruins Christmas Dinner!
Once you have Christmas dinner plans with friends and family, you don't want anything to ruin it. If your kitchen drain isn't flowing well now, hire a local plumber for drain cleaning service before the plumbing Grinch has a chance to attack! That sluggish kitchen drain may just be waiting until Christmas dinner to completely back up on you!
Drain cleaning service removes all the buildup within your kitchen drain pipes. Most often, our Memphis plumbers find plenty of grease, food particles, unidentified objects, and sediment buildup inside kitchen drains. Sometimes the pipes are so narrow by the limescale buildup the water has nowhere to go but back up the pipe. Get your drains cleaned now to avoid backups during Christmas dinner!
Overflowing Toilets During The New Year's Eve Party!
Ask anyone and they'll say toilet backups are the most frustrating plumbing problem. Not only do they flood the floor with gallons of water, the mess is highly unsanitary. A toilet backup is the last thing you want to have happen during your New Year's Eve Party. Unfortunately, this is the most likely time it will happen with all the additional people using the toilets in your house!
If your toilet doesn't offer a strong flush now, let a local plumber inspect it for you before the holiday party begins. They can troubleshoot the toilet and make a recommendation to fix the problem.
Busted Water Heater Floods Too Close To Christmas Lights
The plumbing Grinch well knows water and electricity don't mix, so don't be surprised if your old hot water tank finally busts open this year. Just be sure your Christmas lights aren't hanging down low and get your plumber to flush out the hot water heater tank now and inspect the electrical or gas components.
Garbage Disposal Won't Grind Leftovers
If you've put off replacing the kitchen sink garbage disposal for some time, don't expect it to work well after Christmas dinner. There's always bits of leftovers to dispose of after a large family meal, so be prepared with a new garbage disposal to keep the plumbing Grinch away. The last thing you want is to call a Memphis plumber during the holidays! If you must, call Larry O. Plumbing & Rooter at 901-861-0277!
Not Enough Hot Water For Guests!
While not giving you enough hot water for guests isn't a terribly grinchy thing to do, it's just as frustrating as a toilet backup if you have a household full of guests.
Have you and your family already suffered with the occasional cold shower? Hot water heater tanks are made to only hold so many gallons of water. This is a good time of year to do something about it. If the hot water tank isn't big enough for your family, there's no way it can give you and your guests enough hot water.
A Memphis plumber can replace your hot water heater with a larger tank. Alternatively, they can install a tankless water heater which will give you an unlimited supply of hot water.
Hopefully, by being prepared with a reliable plumbing system you've taken care of, your holiday season will be especially enjoyable this year. If you need help keeping the plumbing Grinch away in Memphis, call Larry O. Plumbing & Rooter!
If you are looking for a Memphis area plumber, please call us today at 901-861-0277 or complete our online request form.