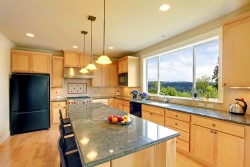 Are you remodeling your kitchen? If so, you shouldn't do so with only aesthetics in mind. You should also consider the functionality of your kitchen, and you can make your kitchen function as efficiently and seamlessly as possible with just a few plumbing installations.
That's right -- INSTALLATIONS. You can plumb more than just your kitchen sink, and these new plumbing installations will make your cooking so much easier and even more enjoyable. For instance -- you might not have considered . . .
Having Your Kitchen Island Plumbed
A kitchen island is already a great, efficiency installation. It provides a central place to prep your food and to store your most-used cookware. And with some plumbing installations, you can bring your kitchen island to the next level of efficiency.
A sink plumbed straight into your kitchen island will save you so much time as you're able to wash your produce and clean off your hands right where you prep your meals. No more running back and forth to the kitchen sink. With plumbing in your kitchen island, you'll be knocking out dishes with the efficiency of a professional chef!
Getting a Pot-Filler Faucet
From beans to soup to pasta, it seems that you can hardly think of a dish that doesn't require a generous amount of water to cook up. And it can surely be frustrating to fill your pots and pans for these dishes, especially if your sink is full of dirty dishes.
Luckily, you can avoid that issue and streamline your cooking by getting a pot-filler faucet installed over your stove. As its name tells you, a pot-filler faucet will allow you to fill up your pots and pans with water right over the stove, making boiling dishes easier than ever before.
Equipping Your Sink for the Easiest Cleanup
As far as your kitchen's plumbing goes, your kitchen sink is the installation that will get the most use, as it's where you'll rinse your dishes and yourself as you make your meals. For that reason, you should be sure your kitchen sink is equipped to handle your cleaning most efficiently.
This efficiency can come from a number of great installations. You can get a taller faucet for rinsing your large pots, a detachable faucet head for thoroughly rinsing your dishes, and a built-in soap dispenser for easy hand-washing. With an efficient sink, your cooking will be its most efficient!
If you are looking for a Memphis area plumber, please call us today at 901-861-0277 or complete our online request form.