Professional Plumbing Repair in Lakeland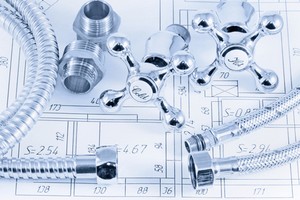 If you are a home or business owner in Lakeland and you are in need of plumbing repairs, new piping or kitchen or bathroom renovation, then contact the certified team at Larry O. Plumbing & Rooter for your next plumbing project. With several years of combined industry experience we can tackle any plumbing repair or implementation for both residential and commercial properties no matter how simple or complicated. Our trained Lakeland plumbers can walk you through every phase of your next project in order to make your repair or installation a simple.
We use the most technology advanced equipment in the industry and modern technology in order to properly perform every job in an efficient manner. We perform every plumbing repair or renovation right the first time. We are dedicated to the providing each of our clients the highest level of customer satisfaction. See the difference that Larry O. Plumbing & Rooter can make in your next repair or installation.
Comprehensive Plumbing Service
All plumbing repairs require detailed attention as they often result in some kind of damage home damage and cause other problems. If you're experiencing a water emergency due to plumbing we quickly fix the problem. With an on-site visit, we will inspect the damage; give you a clear estimate, and then work fast to resolve your problem. We repair all plumbing issues including:
Drain Clearing – We completely clear all blockage and building out of your drains and completely clean them out. We dig deep into the drain to insure that water flows freely through your pipe walls.
Water Heaters – If your water heater is in need of repair, then call the water heater experts. We give your water heater a complete assessment, target the problem and then repair it. We can get your water heater running like new.
Kitchen & Bathroom Renovation – We cover your entire kitchen and bathroom renovation needs from fixtures and faucets, to tubs, sinks, showers, complete re-piping, design, consultation, installation, and full repair. This includes all water-based appliances such as refrigerators and dishwashers. Next time you're ready for that new kitchen or bathroom, look to the professionals!
Re-Piping – Eventually your pipes will become rusted, corroded, or busted. Regardless of what the problem is, we can completely replace your old pipes with brand pipes. It doesn't matter what your pipes are made of. We cover all types of plumbing such as iron, stainless steel, copper, PVC and other materials. We can give your system the upgrade it needs.
Leak Repair – Remember, all small leaks eventually turn into larger leaks. Treat your plumbing leaks before there's major water damage to your home. Contact us today. We repair all busted pipes, loose and broken connections, faucets, and appliances. We do more than just repair the leak. We provide long-term solutions so that you don't have to keep spending money on multiple leaks.
If you are looking for a professional plumbing company please call us today at 901-861-0277 or complete our online request form.


Our Services



Get some around the house tips from our monthly newsletter.


We Accept The Following


Financing Available For Those That Qualify