Arlington Plumbers and Plumbing Contractors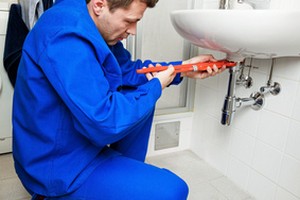 When it comes to finding the right Arlington plumber, it can seem like an overwhelming task. So many names to choose from and how can you know which is the best. The good news is that you have already found your answer – the Larry O. Plumbing & Rooter company is the one for you. Since 1971 our team has been dedicated to providing local residents with the best quality work for the most reasonable price.
Taking care of your plumbing is an important job; this is an essential part of what keeps your household running smoothly on a day to day basis. If any of your system is off it can cause big problems for your entire family. Our job is to help keep you and your family on track. Plus, even minor plumbing problems can quickly develop into major ones.
Plumber in Arlington
Before hiring anyone who claims to be a professional Arlington plumbing contractor to take care of issues in your home, there are some things you should find out. First and foremost, it is important to work with someone who has their proper licensing in place. Too many so-called pros bother to get this and fail to mention they no longer have, or never had, a license.
When you get a quote, get it in writing. If you and the contractor agree to anything differently verbally, make sure to make amendments to the written quote and have both parities initial that. Even the best contractor may not remember three months later a verbal agreement so protect yourself. The last thing you need is to get a good quote and then end up with financial surprises at the end of the job.
Professional Arlington Plumbing Contractor
It may not seem like a big deal, but it kind of is, ask about the clean up after the job is complete. You don't need to pay someone to find out once the work is done they are out the door leaving you with a huge mess to clean up. A company that cares about its customers should be willing to take care of details like this as well. Of course it should come as no surprise that our crew here at Larry O. Plumbing meets all of those requirements, and then some.
We believe in going above and beyond when it comes to meeting the needs of our customers. So when it comes to your Arlington, TN plumbing contractor service needs, give us a call right away. We look forward to working with you and taking care of whatever services you need completed.

---
What Our Local Clients Say
Company Name is Rated: 5 / 5
based on these 2 happy customer reviews.
---
"Larry O Plumbing & Rooter is a company that we have and will always use, their techs are very professional and their CSR is wonderful on the phone. They helped us out when we were in a pinch and needed work done before a Christmas party that we were throwing at our home, I definitely will and do recommend Larry O for all your plumbing needs."
---
If you are looking for an Arlington plumber please call us today at 901-861-0277 or complete our online request form.